Safety
Safety at C&B: The Anchor of Our Company
For Carlisle & Bray Enterprises, safety isn't just at the core of everything we do; it is the most critical aspect of our company's culture, and it is our guiding principle.
We realize that our employees are our most important asset. We strive to ensure they are provided the best resources, equipment, training, and supervision to safely accomplish tasks for our valued customers. Our highly-skilled management team encourages "all hands" to participate in the development and/or revision of company safety procedures, ensuring everyone — at every level — has the opportunity to be involved and participate.
Our leadership team strives to convey a positive attitude — an attitude of caring, understanding, and contributing to our team effort — to all of our employees, sharing with them our genuine concern for their safety and our commitment to involve them in the process making our companies as safe as they can be.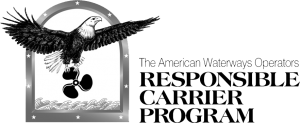 As a proud member of the American Waterways Operators, Carlisle & Bray Enterprises believes that all injuries are preventable, and we adhere to the principles of AWO's Responsible Carrier Program, of which we are a certified member. Our team works diligently to prevent accidents, and our business is maintained in a way that makes it safe for our employees, our customers, and our environment.
To underscore the importance we place on safety, a member of our management team, Greg Schabell, is our company's designated safety officer. He is charged with ensuring compliance with the Responsible Carrier Program, as well as providing a crucial link to employees to continuously remind them of the safety principles to which we adhere. Carlisle & Bray Enterprises believes that if safety is always at the forefront of your mind, it will be the cornerstone of all you do.
Safety is the Way of Life at C&B
If you have questions or concerns about safety at Carlisle & Bray Enterprises, or at any one of our companies, we want to hear from you. Please do not hesitate to contact us.